◎About Hatsumode 
Every year January 1 to 15
【January 1】0:00~19:00  【2 to 3 January】6:30~19:00  【January 4 -】6:30~17:00
◎About Setsubun 
Setsubun amulet(Every year February 1 - February 7)⇒Note (slightly modified ant every year)
2015 fiscal year, for one day on Sunday, four days of the 1st, the 2nd, the 3rd, the 4th, there is fired sesame.
●Please pray for the type

【Pray in the main hall (your Buddha St. Kanzeon Bosatsu) (every year February 1 - February 7)】
Your prayer of Abikokannon, not to Oharai your person directly, your name, address, age (East Asian age reckoning), and to ask you a wish, is booked to accept ledger, the ledger is prayer for one year with offerings to Gohozen do. At the same time, the bill or the like, get deified in your protect and house that'll have to the people, one day, three days, after the prayer your every Dragon morning of seven days, you will be mailed to Contact heard the address .
◎Your prayer fee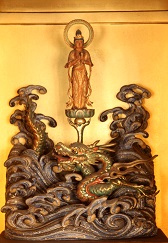 Price list

| Your prayer dates | Your prayer fee | Remarks |
| --- | --- | --- |
| Three days your prayer | ¥5,500 (including postage) | Accepted ledger will prayer your one year |
| Seven days your prayer | ¥10,500(including postage) | Accepted ledger will prayer your one year |
【You have changed more in prayer (Ohudousan) (February 2 February 3 February 4) year in Gomado】
◎Your prayer fee
Price list

| Type homa stick | Your prayer fee | Remarks |
| --- | --- | --- |
| Medium Homa | ¥2,000 | Medium superstition awarded |
| Large Homa | ¥5,000 | Large superstition awarded<Including Kaji prayer by Yamabusi> |
| Betsudai Homa | ¥10,000 | Betsudai superstition awarded<Including Kaji prayer by Yamabusi> |
| Special large Homa | ¥30,000 | Special large superstition awarded<Including Kaji prayer by Yamabusi> |
◎◎Open & Closed gate time 
Open gate time:6:30(However, the 1st, 30 pm on the 18th morning 5)
Closed gate time:17:00